THE very idea of your hands cupping an object that has not been touched or seen by any living creature for millions of years is every bit as exciting as it is mind-blowing.
Seeing a small rock break apart to reveal the perfect imprint of a long-extinct ammonite or finding a prehistoric shark tooth is enough to fill anyone's heart with wonderment.
Yet, this palaeontological pastime isn't the preserve of scientists on vast digs in far-flung deserts. In fact, some of the best dinosaur remains in the world have been discovered by amateur enthusiasts who just happened to see something unusual poking out of the ground, from a cliff face, or on the beach.
Luckily, here in the UK, we've got some of the best fossil-hunting playgrounds anywhere – and all you and your family need to enjoy a day of being dinosaur detectives and find fossils are goggles, a rock hammer and a keen eye.
Another added bonus for families is that most fossil hunting sites in the UK are on beaches, and therefore perfect for combining with a family break.
There are many inland sites too, although most of these are part of quarries and often not accessible to the public. One or two are accessible and even run special days where you are able to join an expert and search for prehistoric finds. Others may require special permission.
Among the hundreds of sites that are available – you can even search for some through the UK Fossil Hunting Network's interactive location guide or join the UK Association of Fossil Hunters – we've already visited plenty to share our own recommendations.
So, here's our top ten best places for fossil hunting…
Lyme Regis, Dorset
There's a very good reason why they call this stretch of southern Britain the Jurassic Coast. A UNESCO World Heritage Site, it stretches some 96 miles from Exmouth in East Devon to Studland Bay in Dorset. Lyme Regis is considered the area's capital, and even hosts an annual Fossil Festival.
Robin Hood's Bay, North Yorkshire
Also within a Jurassic coastline, some well-preserved and abundant remains have been found among the rocks of Robin Hood's Bay. Mainly from the early Jurassic period (200 million years ago), a great variety of finds here range from impressive ammonites to marine reptiles such as ichthyosaurs, many of which are displayed a couple of miles up the coast at the Whitby Museum. Whitby too is a popular fossil hotspot in Yorkshire, as is the lesser-known Port Mulgrave.
Redcar, County Durham
Perhaps not a favourite of those seeking unusual artefacts, Redcar offers a safe environment for the younger fossil-finders with its shingle beach and absence of cliffs. There are plenty of bivalves and plant fossils among the pebbles.
Herne Bay, Kent
It's one of Britain's most famous playgrounds for seeking out ancient treasure, and well-known as the home of shark teeth, mainly from 'startioamia macrota' – a genus of sharks that lived during the early Paleocene to Late Miocene period (that's between 61 million and 10 million years ago). A local tip is to walk east of Beltinge towards Reculver when low tides expose more of the shoreline.

Charmouth, Dorset
Back on the Jurassic Coast, Charmouth offers something a little off the beaten track for those who like to get away from the crowds. It's a reasonably quiet spot with plenty of regular deposits from occasional cliff slides (beware) that give it its name of 'Gateway to the Jurassic Coast'.
Walton-on-the-Naze, Essex
Due to regular coastal erosion (almost a metre every two years), people have been flocking to the quaint town of Walton-on-the-Naze for centuries to collect its wealth of ancient treasures. You can park by the lighthouse to have close access to the beach, walking north in search of shark teeth, prehistoric plant imprints and bivalves. It is advised not to walk beneath the cliffs during bad weather when they are prone to landslips.
Danes Dyke, Yorkshire
One of the UK's finest Cretaceous period (75 million years ago) sites, Danes Dyke has a remarkable profusion of sponges which are easily discovered in the soft chalk. There are also many other species to be found in the loose rocks, such as echinoids and the fossilised spines of sea urchins. This is also very good spot for the family as there is a car park, café and toilet facilities near the beach.
West Runton, Norfolk
Serious fossil hunters actually get excited if there's been a storm on the Norfolk coast. And, once things have calmed down, they flock to West Runton where the pebbles and sand will help create a carpet of ancient sponges and belemnites. West Runton even made the headlines 20 years ago when a local couple discovered a mammoth skeleton on the beach.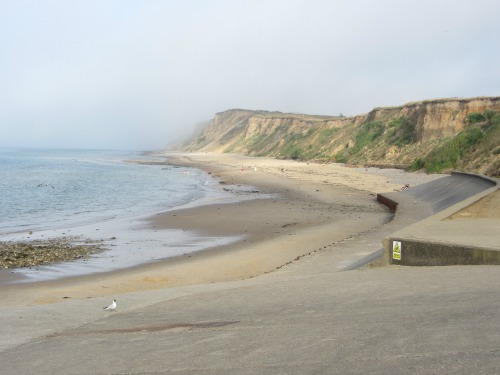 Penarth, Vale of Glamorgan
A few short miles south of Cardiff lies the bustling town of Penarth where the cliff face experiences persistent erosion to reveal a wealth of Jurassic treats like gastropods, brachiopods and some excellent examples of ammonites. There's a regular train service running between Penarth's own station and Cardiff Central which is less than 15 minutes' ride… assuming the temptations of the pier, fish and chips and ice cream don't hold you up.
Isle of Wight
Fossils are so plentiful on the beaches enveloping the Isle of Wight that you can even hire a guide to take you on a fossil hunting trip – just enquire with the island's tourism office for more details. There's even a 'Dinosaur Isle Museum' to get you started. But, if you want to go it alone, it won't take long before you stumble upon something of interest. The island's rocks date from 120 million to 40 million years old, meaning the variety of finds is one of the most interesting in Europe.
Once you've gathered your fossilised trophies and made some wonderful memories, maybe you can start to think about your next adventure… but have you ever asked yourself "What kind of adventure holiday should I go on?".