GOOGLE is set to review its mapping service after discovering a recommendation could direct hikers to follow a dangerous route up Ben Nevis.
A local mountaineering group flagged up the 'potentially fatal' route with Google, which has now removed the link.
The internet company has reassured users that any walking directions on Google Maps were verified as safe, but acknowledged the concerns of the John Muir Trust – charity caretakers of the UK's highest summit – and made an alteration to one of its suggestions for the Scottish peak.
Driving directions had originally offered a route to a car park at Nevis Gorge on the 4,413ft (1,345m) mountain, where a dotted line had been placed to mark the direct distance to the top of Ben Nevis.
Dangerous approach to Ben Nevis
However, members of the Trust urged Google to rethink the information line, claiming it could be misinterpreted by inexperienced climbers as a route to the top.
Their concerns were echoed by Heather Morning, Safety Adviser for Mountaineering Scotland.
"For those new to hill walking, it would seem perfectly logical to check out Google Maps for information on how to get to your chosen mountain," she said.
"But when you input Ben Nevis and click on the 'car' icon, up pops a map of your route, taking you to the car park at the head of Glen Nevis, followed by a dotted line appearing to show a route to the summit."
The route in question would test even a professional mountaineer. It meanders across very steep, rocky terrain with no visible path.
"Add in low cloud and rain, and the suggested Google line is potentially fatal," Heather added.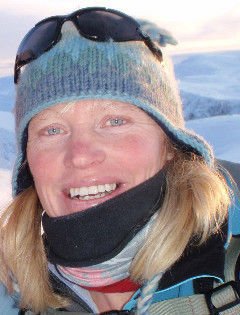 "It's all too easy these days to assume that information on the internet is all good stuff, correct, up to date and safe.
"Sadly, experience shows this is not the case and there have been a number of incidents recently where following routes downloaded off the internet have resulted in injury or worse.
"Many people are not aware of where to get reliable information and may quite naturally assume that Google Maps, which got them from their home to the foot of the mountain, can carry on and do the job right to the top. This is not the case."
Google has recently reviewed the concerns of the Trust and Mountaineering Scotland, and made alterations to the mapping software.
"Our driving directions currently route people to the Nevis Gorge trailhead parking lot – the lot closest to the summit – which has prominent signs indicating that the trail is highly dangerous and for advanced hikers only," a statement said.
"To help both novice and experienced hikers more easily find trails that suit their level of expertise, we're now updating our driving routes to take people directly to the visitor centre, where they'll be able to speak with staff about the best trail to take."
Other routes are also being reviewed, and Google said it encouraged organisations to assist with up-to-date information by using the Geo Data Upload tool or the 'Report a Problem' function.